Philosophy in the kitchen: ALTA's vision
"Cuisine is not eating.
It is much, much more than that.
Cuisine is poetry."
(Heinz Beck)
Home. A concept that has changed over the years and still continues to change profoundly, together with the transformations that take place in society and the changing habits and needs of the individual.
Once a container of even large families, it later became the reference point for a new idea of family, a point of departure and arrival, but, above all, a refuge in which to pause the frenetic rhythms of modern society and relax.
In this new concept, the kitchen plays a central role: it represents the heart of the home, the environment in which changing needs, new spaces, innovation, versatility, functionality and conviviality come together.
This is how the kitchen becomes almost a status symbol, the highest expression of the combination of functionality and design, a source of pride and, also for this reason, a place to live and share on various occasions and at different times of the day.
What is the centre of the room? The island, with its considerable gravitational pull, the true fulcrum around which life and the dynamics of the family develop.
An icon of modern cuisine, the island is a comfortable, practical and efficient solution. From a main place of action as a worktop for culinary preparations, it transforms itself, at different times of the day, into a space for sharing and conviviality.
A kitchen model that was born together and perfectly adapts to open spaces, environments where it is necessary to remodel spaces thanks to differentiating but, at the same time, complementary and harmonious elements.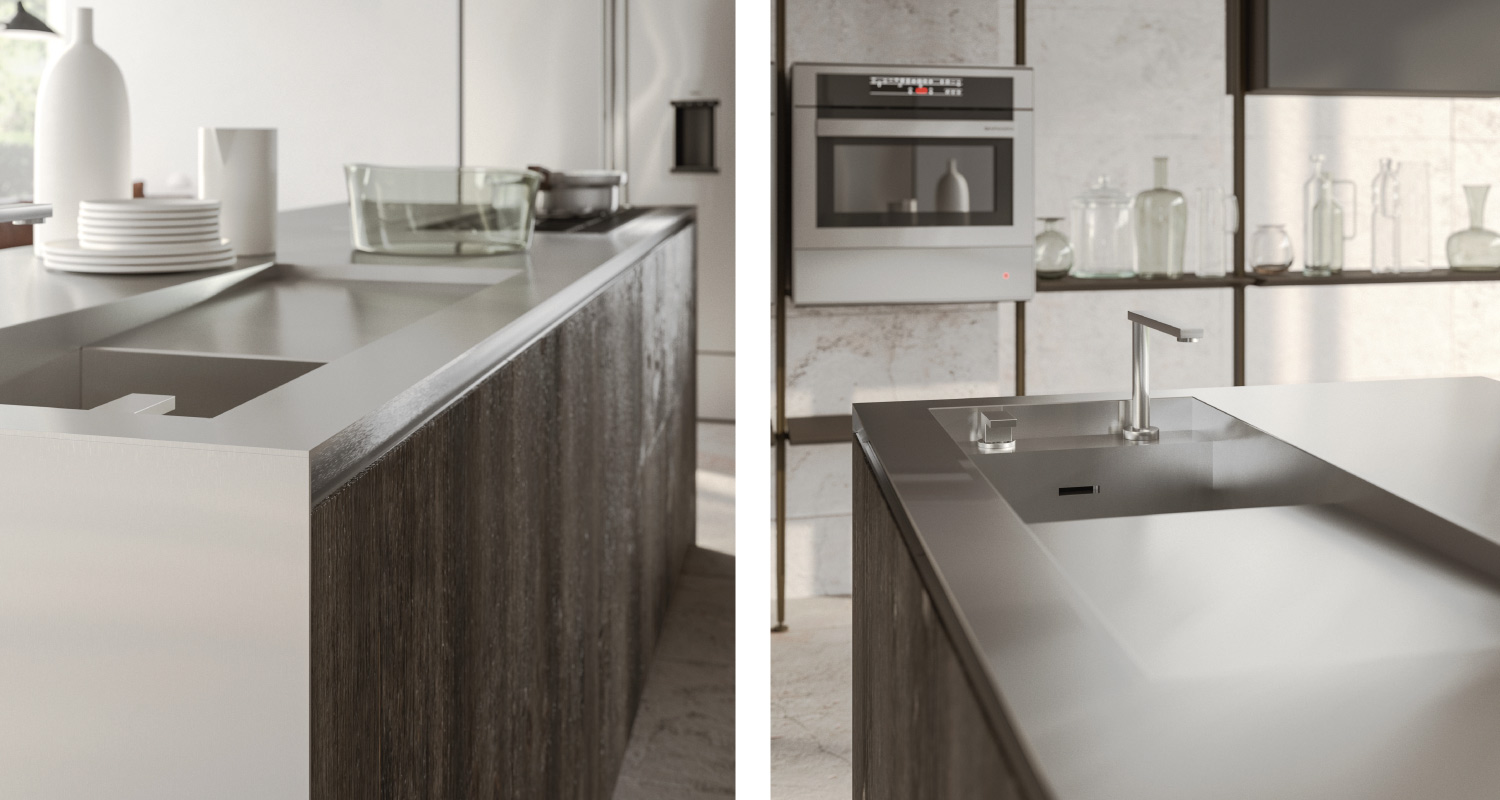 It is the modern conception of home, a philosophy that, in the multitasking logic of this society, brings together multiple activities in a single and determined space: cooking and socializing, relaxing and being with your family, working and interacting with others.
The modern kitchen, as a result, suggests large spaces to make the most of the compositional modularity, enriching them with selected, functional and design elements, in harmony with the living area.
The inclusion of island modules in modern kitchens allows for greater flexibility and facilitates the maintenance of order.
The idea of placing in the centre of the room a series of operations typically carried out in the kitchen, such as, for example, food preparation and cooking, makes it possible to free up walls that can be rethought and used to place multifunction columns, refrigerators, raised ovens, wine racks, or to increase intelligent storage spaces, such as concealed drawers and shelves for dishes and utensils.
The strength of Sistema 22 by Alta? Creating design kitchens, with selected materials in line with trends, to make them live an extraordinary experience and offer the possibility to innovate, over time, the shapes and materials of their environment.
The logic of this System, in fact, allows a substantially infinite choice of alternatives, with a wide range of materials and finishes, to be able to give shape to the ideal combination, perfect and tailored to each specific need.
Moreover, in order not to place limits on space, the islands can be integrated with sliding counters, to conceal the sink and hob or to extend their dimensions, to create an additional surface that disappears when not needed.
The island, however, is not an exclusive prerogative of open and spacious spaces!
Thanks to the modularity of Sistema 22 by Alta, in fact, the islands are available in multiple widths and lengths, to adapt to any type of architectural context: from lofts with metropolitan spaces to country villas.
With a rich variety of finishes, both for fronts and tops and counters – from laminate to Fenix, from lacquer to wood, from glass to ceramics – the island guarantees clean lines and essentiality, following the stylistic logic of "less is more". It thus becomes a unique piece, in which verticality and horizontality merge together, almost dematerializing three-dimensionality.
Design and functionality for Alta: two contiguous extremes of a stylistic project in continuous evolution.